The IFMNT Difference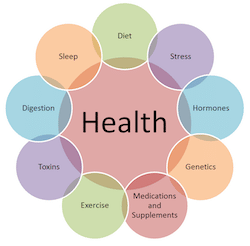 An Integrative and Functional Registered Dietitian Nutritionist uses an approach that is complementary to conventional medicine practices and seeks to work with other practitioners in a team approach. A combination of scientific evidence and practice-based evidence helps to guide RD's who focus on this area. The advanced training in IFMNT helps to provide a unique holistic approach to manage chronic disease states toward wellness.
The practice of Integrative and Functional Medicine reaffirms the importance of relationship between practitioners and patient, and focuses on the patient as a whole person versus isolated symptoms. It realizes that each person has a unique genetic make-up along with internal (mind, body, spirit) and external (physical and social) factors that affect total functioning. This approach looks at core imbalances that underlie symptoms and are the root of chronic health conditions.
The Tools that Functional Medicine Utilizes Include:
Laboratory testing and other diagnostic techniques
Herbal remedies
Exercise
Therapeutic diets
Detoxification programs
Stress-management techniques
Call or E-mail Today to Schedule Your Appointment!