Cardiovascular disease is the leading cause of death. Standard cholesterol tests can miss that YOU are at risk. Poor blood sugar regulation and unhealthy triglyceride and lipoprotein levels often present long before the diagnosis of type 2 Diabetes. SpectraCell's Cardio-metabolic and Pre-Diabetes panels offer definitive diagnostic and clinically relevant evaluation to help define risk of atherosclerotic cardiovascular disease (ASCVD) and progression toward type 2 diabetes. These check points along with an overall pre-diabetes risk score, help patients understand that not just one factor, but rather a constellation of risk factors, contribute to the genesis and progression toward poor blood sugar control and/or ASCVD.
I've Already had My Cholesterol Checked, Why Should I Have the Cardio-Metabolic Test Done?
According to the NCEP guidelines, 50% of people who have a heart attack have normal cholesterol levels.
Standard cholesterol testing only gives you part of the picture leaving many people with "normal" cholesterol numbers unaware that they are still at risk for a heart attack. The National Cholesterol Education Program introduced new risk factors that are responsible for many individuals at risk for cardiovascular disease.
Cholesterol is carried throughout the body in little balls called lipoproteins. It is the lipoproteins, not the cholesterol in them, that leads to clogging of the arteries.
Why Standard Blood Panels Aren't Enough
Standard cholesterol panels only tell you part of the story in terms of your cardio-metabolic risk toward the development of such conditions including diabetes, cardiovascular disease, and other inflammatory conditions. A basic lipid panel is a very general marker for cardio-metabolic risk, but is much more effective when in the context of other biomarkers, particularly lipoprotein particle numbers. Lipoprotein particle testing allows a practitioner to see whether a person's cholesterol levels are predominantly healthy or atherogenic. Essentially, it is a much more comprehensive and thorough approach to analyzing cholesterol numbers.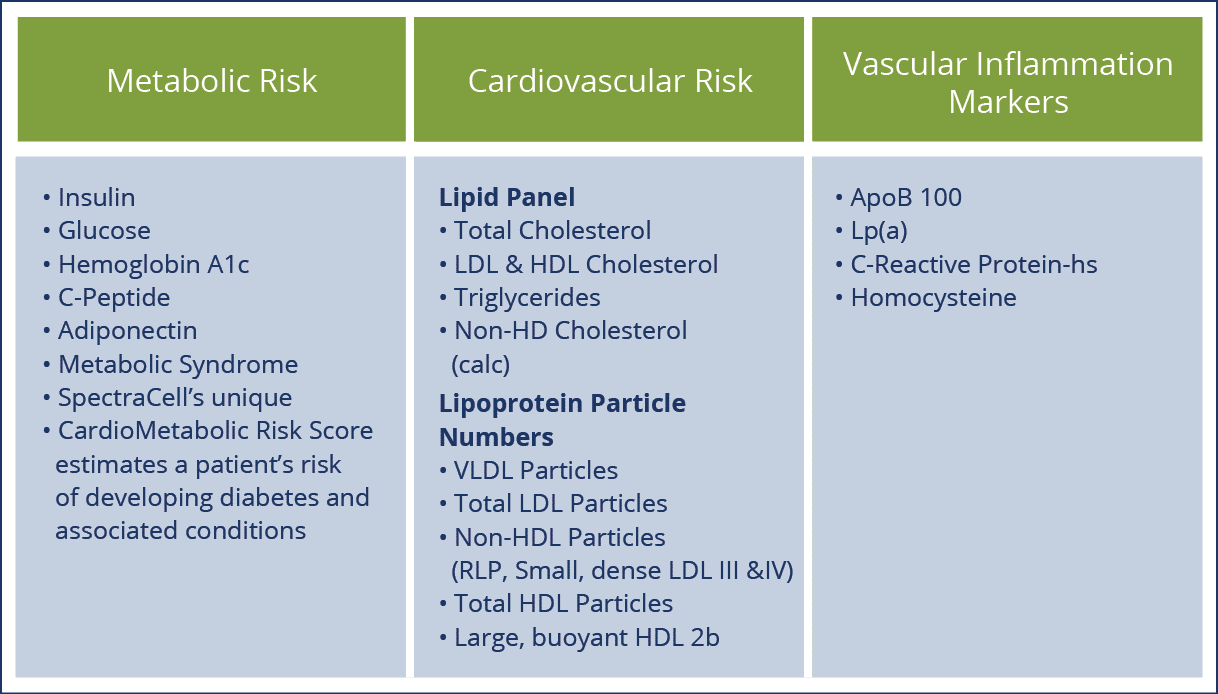 Standard Lipid Panel: Total cholesterol, HDL, LDL, Triglycerides
SpectraCell Lipoprotein Particle Panel: Total cholesterol, HDL, LDL, Triglycerides, Lipoprotein Particle Profile (includes: VLDL, LDL III, LDL IV, Remnant Lipoprotein, Lp(a), HDL2b, ApoB100, C-Reactive Protein, Homocysteine
CardioMetabolic-Panel (Click to View)